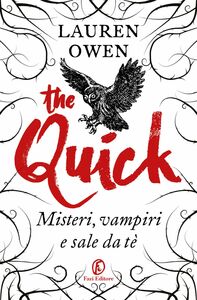 Inghilterra, fine Ottocento. James e Charlotte sono due fratelli orfani che vivono in una dimora signorile sperduta nella campagna inglese. Una volta cresciuti le loro strade si dividono: James, timido aspirante scrittore, terminati gli studi a Oxford divide l'appartamento in affitto a Londra con un affascinante giovane aristocratico. Grazie alle conoscenze del ragazzo, viene introdotto nei salotti dell'alta società e trova l'amore dove non se lo sarebbe mai aspettato. Poi, improvvisamente, scompare senza lasciare traccia. Preoccupata e determinata a trovarlo, la sorella Charlotte parte per Londra e s'immerge nelle tetre atmosfere della città industriale, dove scopre l'esistenza di un mondo segreto, popolato da personaggi incredibili e loschi che vivono ai margini della città. Un mondo in cui i confini della realtà hanno assunto forme tutte nuove. Per lei si apriranno le imponenti porte di una delle istituzioni più autorevoli e impenetrabili del paese: l'Ægolius club, luogo di ritrovo degli uomini più ambiziosi e pericolosi d'Inghilterra, cupo circolo d'élite che cela mille segreti, uno più terrificante dell'altro: una serie di sorprese che lasceranno il lettore senza fiato fino all'ultima pagina. Nel suo coinvolgente romanzo d'esordio, Lauren Owen ha creato un universo fantastico che risulta allo stesso tempo accattivante e spaventoso, dove la seduzione del gotico si fonde con l'incanto dell'ambientazione vittoriana.
«Sovversivo, divertente, mette i brividi. Non si fa in tempo a tirare un sospiro di sollievo, che subito accade qualcosa di ancora più orribile». Hilary Mantel
«Un esordio da brivido per i fan di Wilkie Collins e Sir Arthur Conan Doyle. Energia pura. Un esempio perfetto di romanzo impossibile da mettere giù». «The Economist»
«Un'ottima storia di vampiri alla vecchia maniera. Che divertimento». «The New York Times»
«Un blockbuster gotico». «Independent»
Book details
Publisher

Original text

Yes

Language

Publication date

Page count

Theme
About the author
Lauren Owen
È nata nel 1985. Ha studiato all'Università di Oxford e all'Università dell'East Anglia, dove nel 2009 ha ricevuto il Curtis Brown Prize per la miglior tesi di dottorato in Scrittura creativa. The Quick è il suo primo romanzo.