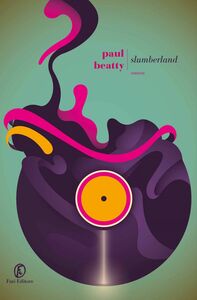 Dall'autore di Lo schiavista, vincitore del Man Booker Prize 2016: il primo americano nella storia a vincere il prestigioso premio.

Berlino, 1989. dj Darky è nero, viene da Los Angeles e ha un sogno: trovare Charles Stone, in arte Schwa, mitico musicista dell'avanguardia jazz, e fargli suonare il suo perfetto beat. Il Muro cadrà a breve e una nuova città lo aspetta, sterminata e pullulante di vita: va scovato il suo cuore pulsante, ne va colto il battito, va fatto proprio.
Un'arteria tra tutte gli balza agli occhi, indicando la meta: un locale in cui si fa musica, lo Slumberland bar, dove si fa assumere come jukebox sommelier. In quei pochi, fumosi metri quadrati di impiantito sporco e ritmo perfetto, si apre così una nuova stagione di ascolto: un'educazione acustica, politica e sessuale che via via annette territori inediti, nuovi gusti musicali, nuove memorie fonografiche. Nel frattempo, come un caldo giro di basso che s'insinua lungo le strade vivaci della città, dj Darky passa da un letto tedesco all'altro mentre affila le armi di un'ironia argomentativa che non ammette limiti: sulla negritudine in quegli anni in America e in Europa, sulle relazioni tra uomini neri e donne bianche, sulla musica jazz e techno, sulla condizione dei tedeschi dell'Est dopo l'unificazione e quella degli afroamericani dopo le battaglie per i diritti civili. Paul Beatty, una delle voci più pungenti d'America, ci regala un irresistibile sound letterario, un graffiante ritratto delle contraddizioni di quegli anni, ma soprattutto un atto d'amore per la musica, a suo vedere l'unica cifra con cui è possibile misurare la realtà e la vita.
Book details
Publisher

Original text

Yes

Language

Publication date

Page count

Theme

Collection
About the author
Paul Beatty
È nato nel 1962 a Los Angeles. Ha studiato Scrittura creativa al Brooklyn College e Psicologia alla Boston University. Ha scritto quattro romanzi: Il blues del ragazzo bianco, Tuff e la sua banda, Slumberland e Lo schiavista, tutti pubblicati da Fazi Editore. Ha inoltre curato l'antologia Hokum: An Anthology of African-American Humor. Con Lo schiavista ha vinto il National Book Critics Circle Award e il Man Booker Prize 2016: il primo americano nella storia a vincere il prestigioso premio. Vive a New York.