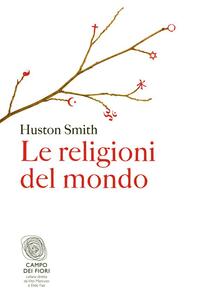 «Questo è un testo che tratta della religione non come un'abitudine noiosa, ma come una febbre acuta».

Visionario e carismatico, "innamorato della religione", Huston Smith ci conduce all'incontro con le grandi religioni dell'uomo con l'impatto emotivo di chi sa abbracciarle tutte.
Figlio di missionari in Cina e grande viaggiatore, ha intuito prima di chiunque altro il nostro essere "cittadini del mondo" e dunque l'urgenza di conquistare un angolo di visuale più ampio grazie all'ascolto delle religioni altrui.
La lettura di questo libro rappresenta un viaggio nel tempo e nello spazio, accompagnati da proverbi cinesi, racconti indiani, aforismi giapponesi, versetti biblici, citazioni shakespeariane e potenti immagini metaforiche.
Un vero e proprio pellegrinaggio dell'anima da cui scaturisce una visione globale della vita.
Nato come serie televisiva americana, Le religioni del mondo è un libro indimenticabile che spiega perché le grandi religioni del mondo sono nate e perché, soprattutto, continuano a esistere.
Con oltre 50 edizioni e tre milioni di copie vendute, tradotto in decine di altre lingue, finalmente questo capolavoro della divulgazione diviene disponibile anche al lettore italiano.

«Intelligente, scritto in modo chiaro, Le religioni del mondo rivela lo spirito di ciascuna fede».
The New York Times

«Nel mondo di oggi, dove gli specialisti dedicano tutta una vita ad analizzare uno o due versetti della Bibbia, un professore che osa riassumere il cristianesimo in 50 pagine può essere visto come un folle. Ma Huston Smith ha fatto qualcosa di rivoluzionario».
«Newsweek»

«Il classico di Huston Smith, Le religioni del mondo, è divenuto a buon diritto venerabile quanto i testi antichi che studia. Invito tutti a farne il centro della propria biblioteca di casa».
«The Los Angeles Times»

Quello che Stephen Hawking è per la scienza e Joseph Campbell per la mitologia, Huston Smith lo è per la religione.
Book details
Publisher

Language

Publication date

Page count

Theme

Collection
About the author
Huston Smith
Figlio di missionari metodisti, Huston Smith è nato e cresciuto in una piccola cittadina della Cina. Autore pluripremiato di numerosi libri, dopo aver insegnato a lungo al Massachusetts Institute of Technology (MIT) e alla UC Berkeley, è oggi professore emerito alla Syracuse University. I suoi studi, ma soprattutto i suoi incontri e i suoi viaggi, hanno fatto di lui un'autorità mondiale indiscussa in tema di religioni.