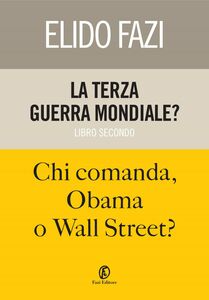 La terza guerra mondiale? Chi comanda, Obama o Wall Street?
Elido Fazi
Dopo il successo dell'ebook La terza guerra mondiale? La verità sulle banche, Monti e l'euro –per oltre un mese al primo posto nella classifica dei libri digitali più venduti- esce il secondo pamphlet di Elido Fazi, Chi comanda, Obama o Wall Street?. Un approfondimento sulla crisi internazionale e sul ruolo della finanza di Wall Street, a partire dalla storia recente americana. In questo secondo capitolo della collana "One Euro", Elido Fazi riprende i fili del suo racconto sulla crisi economica del 2008 e ne spiega gli effetti e le conseguenze ancora in corso. L'analisi si concentra sulla figura di Obama, il quale, nonostante le dichiarazioni fatte durante la campagna elettorale, ha privilegiato la continuità con il sistema di potere precedente, confermando l'establishment responsabile della crisi, legato a doppio filo al "sistema" Goldman Sachs. Dal salvataggio incondizionato delle banche alla scelta dei consiglieri economici della Casa Bianca, Elido Fazi riflette sulle misure, poche e inadatte, messe in campo dall'amministrazione Obama per far fronte al crac finanziario di Wall Street e per regolamentare il sistema delle grandi banche d'affari.
Book details
Publisher

Language

Original language

Publication date

Page count

Theme
About the author
Elido Fazi
Elido Fazi si laurea in Economia e Commercio presso l'Università La Sapienzadi Roma e nel 1977 consegue un Master in Economia presso l'Università di Manchester. Nel 1979, dopo due anni presso la Ford of Europe di Londra, entra alla Business International Corporation, per la quale dall'86 dirige la sede italiana. Nel 1989 viene nominato Vice Presidente di Business International/The Economist Intelligence Unit, con responsabilità per i paesi mediterranei. Nel 1993 fonda Business International, società a capitale italiano che gestisce il marchio Business International di proprietà dell'Economist Group con un accordo di licensing. Nel 1994 fonda la casa editrice, Fazi Editore. Ha tradotto e pubblicato il poema in versi La caduta di Iperione (1995), e ha scritto due romanzi ispirati alla vita di John Keats, L'amore della luna (2005) e Bright Star (2010). Con Paolo C. Conti, ha pubblicato il pamphlet Euroil. La borsa iraniana del petrolio e il declino dell'impero americano (2007). Di grande successo fu la collana One Euro, in cui pubblicò La terza guerra mondiale? La verità sulle banche, Monti e l'Euro (2012) e La terza guerra mondiale? libro secondo - Chi comanda, Obama o Wall Street? (2012). Con Gianni Pittella (vice presidente del Parlamento Europeo) ha pubblicato Breve storia del futuro degli Stati Uniti d'Europa (2013).