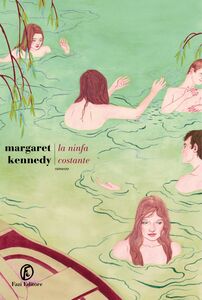 Margaret Kennedy, grande autrice del Novecento inglese ingiustamente dimenticata, torna nelle librerie italiane con La ninfa costante, il suo capolavoro: all'epoca dell'uscita un successo da un milione di copie che fu pubblicato in quindici paesi e conobbe una serie di fortunati adattamenti teatrali e cinematografici.

Il compositore Albert Sanger vive in un cottage sulle Alpi austriache con la sua numerosa famiglia: il cosiddetto Circo Sanger, composto da lui, sua moglie – la terza – e sette figli, tra i quali spicca la scaltra quattordicenne Teresa, da sempre innamorata di uno degli amici del padre, Lewis Dodd. Presso l'allegra compagine trovano regolare ospitalità artisti e musicisti provenienti da tutta Europa, in una festa continua. Quando la morte di Sanger interrompe bruscamente l'idillio alpino, la famiglia della sua seconda moglie decide di intervenire in favore della prole rimasta orfana. Fa così il suo ingresso sulla scena la cugina Florence Churchill, per la quale l'incontro con Dodd è fatale: i due si innamorano all'istante, decidono di sposarsi e di tornare in Inghilterra portando con loro i piccoli Sanger. Ma alla prova del rientro nella civiltà, la loro intesa si incrina molto velocemente: l'impatto con la società inglese e il suo conformismo per lui è troppo. L'impossibilità di una conciliazione tra ordine e sregolatezza appare tanto evidente quanto allettante è l'idea di una fuga…
Un personaggio femminile indimenticabile, una narrazione ricca di grazia e la messinscena dell'eterno conflitto tra anarchia bohémienne e rispettabilità borghese fanno di La ninfa costante una lettura deliziosa.

«Teresa possedeva una particolare commistione di innocenza e scaltrezza, un modo di parlare infantile e acuto al tempo stesso e disponeva di un vocabolario un po' antiquato, semi letterario, e intonazioni prese in prestito da altre lingue. Tutto ciò era molto piacevole e rinfrescante, dopo tutto il provincialismo erudito che gli era toccato sopportare. In lei scorgeva ignoranza, immaturità e una sconfinata, primitiva passione».
Book details
Publisher

Original text

Yes

Language

Publication date

Theme

Collection
About the author
Margaret Kennedy
Nacque a Londra nel 1896 e si laureò in Storia a Oxford, dove conobbe Naomi Mitchison, Vera Brittain, Winifred Holtby. Esordì come storica nel 1922 con A Century of Revolution e come romanziera l'anno successivo con The Ladies of Lyndon. La ninfa costante fu il suo più grande successo. Negli anni Sessanta lasciò Londra per ritirarsi nell'Oxfordshire, dove morì nel 1967.