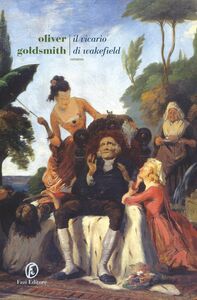 Il vicario di Wakefield racconta le peripezie dei Primrose, una normale famiglia irlandese del 1700. Il vicario Primrose, la moglie Deborah e i loro sei figli vivono una vita idilliaca in una parrocchia di campagna, finché, la sera del matrimonio del figlio George, il vicario viene derubato dal suo broker, che fugge con tutti i suoi soldi sconvolgendo per sempre l'esistenza dell'intera famiglia. Fra inganni, sotterfugi, il rapimento della bella eroina e le macchinazioni di un aristocratico malvagio, spicca la figura del vicario, alla quale il romanzo deve il suo successo: uomo mite e generoso, in sé raccoglie e armonizza gli aspetti migliori dei costumi e della morale inglese del tempo; uno dei narratori più semplici e schietti, e al tempo stesso uno dei più complessi di sempre, trionferà su innumerevoli sventure, sempre in bilico tra il dramma e la favola, tra il comico e il sentimentale. Considerato uno dei migliori romanzi del diciottesimo secolo, Il vicario di Wakefield fin dalla prima pubblicazione, nel 1766, ebbe uno straordinario successo in tutta Europa. Ne sono state tratte diverse versioni cinematografiche ed è stato uno dei romanzi più letti tra il diciottesimo e il diciannovesimo secolo: non a caso, viene citato in Middlemarch di George Eliot, Emma di Jane Austen, David Copperfield e Racconto di due città di Charles Dickens, Frankenstein di Mary Shelley, Il Professore e Villette di Charlotte Brontë, Piccole donne di Louisa May Alcott e nei Dolori del giovane Werther di Johann Wolfgang Goethe.
«Uno dei migliori romanzi che siano mai stati scritti». Johann Wolfgang Goethe
Book details
Publisher

Original text

Yes

Language

Publication date

Page count

Theme

Collection
About the author
Oliver Goldsmith
Oliver Goldsmith nacque in Irlanda nel 1728 (o '30), e studiò al Trinity College di Dublino. Giocatore e dissipatore nato, dopo un viaggio in Europa si stabilì a Londra, nel 1756, ed esercitò vari mestieri. Cominciò nel 1757 a collaborare alla "Monthly Review", e finì in breve per abbracciare la professione dello scrittore. Dal 1760 lavorò molto, guadagnò molto e spese assai di più. Ebbe successo, specie con Il Vicario di Wakefield e con i poemetti The Traveller e The Deserted Village, ed entrò a far parte della più ristretta cerchia di Samuel Johnson. Morì, carico di debiti, nel 1774.