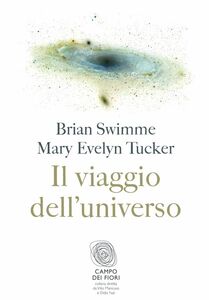 Oggi sappiamo quello che nessuna generazione prima di noi ha mai conosciuto: alla luce delle scoperte scientifiche e tecnologiche, la storia dell'universo si dispiega davanti ai nostri occhi con chiarezza e completezza. Possiamo ricostruire come si sono formate le galassie e le stelle, i pianeti, i primi organismi, fino alla comparsa della vita umana sulla Terra. In questo libro ispirato, il filosofo evoluzionista Brian Thomas Swimme e la storica delle religioni Mary Evelyn Tucker combinano le recentissime conoscenze scientifiche con il sapere tradizionale della cultura occidentale, cinese, indiana e delle popolazioni indigene, raccontando i 14 miliardi di storia dell'universo da una prospettiva inedita, riuscendo a farci sentire parte di un unico, immenso organismo vivente lanciato in un epico viaggio di continuo sviluppo. Nella loro narrazione, l'evoluzione cosmica appare come un processo basato su creatività, connessione e interdipendenza, con la consapevolezza e la responsabilità umana di fronte alle sfide ecologiche e sociali che si stagliano all'orizzonte, diffondendo una nota di speranza per il nostro futuro.
Book details
Publisher

Language

Publication date

Page count

Theme

Collection
About the author
Brian Swimme
Brian Swimme Matematico di formazione, insegna Cosmologia Evoluzionista al California Institute of Integral Studies, dove collabora anche con il dipartimento di Filosofia. Oltre ad aver realizzato serie televisive educative, Swimme è autore di diverse pubblicazioni tra cui Manifesto for a global citizenship, scritto nel 1982 insieme a Matthew Fox, e The Universe Story (1992), il risultato della decennale collaborazione con lo storico della cultura Thomas Berry
Mary Evelyn Tucker
Mary Evelyn Tucker Specializzata nello studio delle religioni asiatiche, è ricercatrice alla Yale University dove insegna in un corso combinato di ecologia e religione. Impegnata nella causa ambientale, collabora con Brian Swimme da oltre venticinque anni.