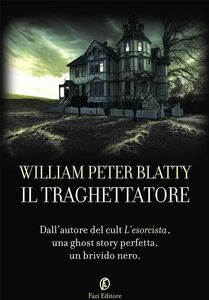 New York, anni Novanta. Joan Freeboard è un agente immobiliare ambiziosa e di successo. Ha fra le mani un grande affare: la vendita di Elsewhere, una villa costruita negli anni Trenta su una boscosa isola del fiume Hudson, ormai disabitata da anni. Ma quella che sembra un'occasione d'oro nasconde un impedimento non da poco: si dice che la proprietà, già scena di diversi omicidi, sia infestata da fantasmi che uccidono chiunque vi soggiorni. Joan arruola allora un esperto di paranormale, una sensitiva e uno scrittore e insieme a loro si trasferisce nella villa per una settimana, per sfatare questa terribile nomea. Ma le cose andranno diversamente: isolati da tutto in seguito a una tempesta, i quattro sperimenteranno l'oscura forza delle presenze occulte che si aggirano nella casa, in un crescendo di terrore che li porterà a una imprevedibile e spaventosa rivelazione finale.
Book details
Publisher

Language

Publication date

Page count

Theme
About the author
William Peter Blatty
William Peter Blatty è nato nel 1928 a New York. La famiglia, di origine libanese, era in grandi ristrettezze economiche; il padre, carpentiere, abbandonò moglie e figlio quando William aveva sei anni. Nel corso dell'infanzia, Blatty e la madre cambieranno residenza ventotto volte. A metà degli anni Cinquanta, Blatty vinse 10.000 dollari nel quiz show You Bet Your Life: cifra che gli consentirà di dedicarsi all'attività di scrittore. Inizialmente autore di romanzi umoristici – John Goldfarb, Please Come Home (1963), I, Billy Shakespeare (1965) e Twinkle, Twinkle, "Killer" Kane (1966) –, dal '64 al '70 Blatty inizia a collaborare come sceneggiatore con il regista Blake Edwards. Dopo l'immenso successo de L'esorcista (1971), e del film di Friedkin tratto nel '73 dal romanzo, nel 1978 Blatty pubblica The ninth Configuration (del quale dirige nell'80 la riduzione cinematografica); nel 1983 scrive il romanzo Legion, un sequel de L'esorcista dal quale, nel 1989, trae il film (che scrive e dirige) L'esorcista III. Nel 1996 dà alle stampe Demons Five, Exorcists Nothing: A Fable, e tre anni più tardi la ghost story Elsewhere.