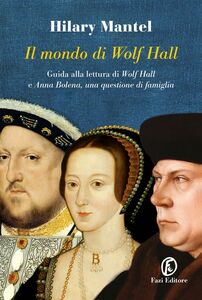 Il mondo di Wolf Hall
Guida alla lettura di «Wolf Hall» e «Anna Bolena, una questione di famiglia»
Hilary Mantel
«La vostra vita è appesa al battito del cuore di Enrico: e il vostro futuro al suo sorriso, o al suo cipiglio».

Dopo Wolf Hall e Anna Bolena, una questione di famiglia, entrambi premiati con il Man Booker Prize, è in arrivo l'attesissimo capitolo finale della trilogia sui Tudor: l'evento letterario dell'anno.
Raccontando in maniera scintillante lo sfarzoso quanto brutale mondo dei Tudor di Thomas Cromwell ed Enrico VIII, Wolf Hall e Anna Bolena, una questione di famiglia, hanno appassionato lettori, critici e giurati. Entrambi i romanzi hanno vinto il Man Booker Prize e hanno venduto più di cinque milioni di copie in tutto il mondo.

Questa guida vi accompagna attraverso la storia, vi presenta i personaggi principali, esplora i temi chiave e offre domande sulle quali discutere.

Il palco è pronto per Lo specchio e la luce. Dopo il terzo matrimonio di Enrico VIII, Cromwell ottiene ricchezza, status e un potere senza precedenti. Ma quanto può durare la fortuna del figlio di un fabbro che è arrivato a diventare conte?
Book details
Publisher

Original text

Yes

Language

Publication date

Page count

With

Theme
About the author
Hilary Mantel
Nata nel Derbyshire nel 1952, Hilary Mantel ha scritto tredici romanzi, fra i quali spicca la fortunata trilogia sulla dinastia Tudor, composta da Wolf Hall, Anna Bolena, una questione di famiglia (entrambi insigniti del Man Booker Prize) e Lo specchio e la luce. Dai primi due volumi la BBC ha tratto l'apprezzata serie tv Wolf Hall, che ha vinto il Golden Globe 2016 come miglior miniserie. Oltre alla trilogia, Fazi Editore ha pubblicato anche La storia segreta della Rivoluzione, imponente opera in tre volumi sulla Rivoluzione francese, Al di là del nero, una commedia nera di ambientazione contemporanea, e Otto mesi a Ghazzah Street, romanzo di stampo autobiografico ambientato nel mondo saudita e Un esperimento d'amore.