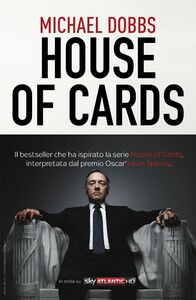 «La politica richiede sacrificio. Il sacrificio degli altri, ov­viamente. Per quanto un uomo possa ottenere, sacrifican­dosi per il suo paese, è comunque più conveniente lasciare che siano gli altri a farlo per primi. Il tempismo, come dice sempre mia moglie, è tutto».
Questa è una delle massime di Francis Urquhart, per al­cuni semplicemente FU, una specie di patrizio solitario, aristocratico molto vecchio stile, che ha passato l'età del­la maturità. Dopo aver dedicato la propria vita alla politica, all'ombra di Westminster, è arrivato ai vertici del suo parti­to, pur incarnando un ruolo in apparenza lontano dai riflet­tori. È il più stretto consigliere del primo ministro e anche il custode dei segreti degli uomini che gli siedono accanto. Se­greti molto personali, debolezze, fragilità, vizi: parole che nella carriera di un uomo politico rappresentano pericoli mortali, perché incompatibili con il ruolo di potere che ri­veste. Ed è questo materiale incandescente che Francis de­cide di sfruttare per raggiungere la sua vetta personale. Da dietro le quinte di una fase politica estremamente difficile e incerta, questo regista impeccabile riesce a muovere tutti, pedine di un gioco spietato, dove il ricatto diventa un raffi­nato intreccio narrativo. Di quale materia siano fatti potere e ambizione, quali siano i legami tra l'informazione e i de­stini politici di un paese, lo scoprirà Mattie Storin, tagliente cronista politica, giovane, bella e temeraria, decisa a stana­re la verità su una crisi di governo in cui nulla sembra ac­cadere per caso, all'interno della quale ci sono troppe om­bre sui destini di chi scende e di chi sale. Thriller politico osannato come l'unico grande romanzo sul potere, House of Cards racconta quel che non ci viene mai confessato, quel­lo che avviene nelle stanze dei bottoni, che temiamo persi­no di immaginare. E nulla del genere è stato mai narrato con lo sguardo di chi quei luoghi li ha conosciuti. La sconcertan­te attualità di House of Cards è stata confermata dall'omo­nima serie TV, brillante adattamento ispirato a questa storia, in cui Kevin Spacey interpreta l'implacabile protagonista, ri­nominato Francis Underwood, alias FU.
«House of Cards è l'opera di un genio»
Sunday Post
«Con un amico come Michael Dobbs, chi ha bisogno di nemici in terra? Il suo ritmo è impeccabile. Meravigliosamente sfacciato».
The Times
«Questo racconto impetuoso e sanguinoso, realistico e cinico, porta con sé una chiave autentica... un grande trionfo».
The Independent
Book details
Publisher

Original text

Yes

Language

Publication date

Page count

Theme

Series
About the author
Michael Dobbs
È nato nel 1948 ed è stato Chief Whip del Partito Con­servatore tra il 1979 e il 1987, durante i governi di Margaret Thatcher. È stato conduttore di programmi di dibattito politico e giornalista per «The Boston Globe». House of Cards è il primo titolo di una tri­logia che ha venduto milioni di copie in Inghilterra, cui seguono Scacco al re e Atto finale. Ha partecipato alla produzione e sceneggiatura della serie omonima ispirata a questo romanzo. Dal 2010 è membro della Camera dei Lord. Fazi Editore ha pubblicato anche Il giorno dei Lord (2018), Attacco dalla Cina (2019) e L'e­roe riluttante (2020).