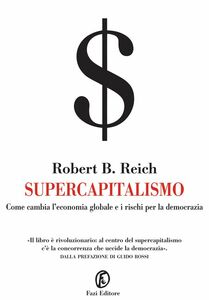 Negli ultimi decenni l'economia mondiale ha avuto un nuovo comandamento: globalizzare. Produrre in ogni angolo della terra al minor costo possibile e utilizzare i vantaggi offerti dalla rete per estendere al massimo il proprio mercato. Ma questo modello di business si sta evolvendo in una forma ulteriore: il supercapitalismo. Ancora più potente, ancora più pervasivo di quanto non fosse già la globalizzazione. Di conseguenza, i diritti garantiti dalla democrazia si stanno indebolendo progressivamente proprio a causa delle pressioni esercitate dal nuovo sistema economico. E il crescente dislivello fra reddito e potere d'acquisto, la precarietà lavorativa in aumento e gli effetti ad ampio raggio del surriscaldamento del pianeta sono le naturali conseguenze di tale processo.
«La scomoda verità», sostiene l'autore, «è che la maggior parte di noi ha due menti. Come consumatori e investitori puntiamo a fare grandi affari. Come cittadini disapproviamo le molte conseguenze sociali che ne derivano». Reich – economista di stampo liberal e già segretario del Lavoro durante la presidenza di Clinton – propone in alternativa un capitalismo forte ed energico, ma che non pregiudichi l'esercizio dei diritti primari. Per realizzarlo, tuttavia, dobbiamo rinunciare all'illusione che le corporation agiscano in base a principi di responsabilità sociale d'impresa e rifiutare quella doppia morale che ci fa desiderare beni a basso costo senza preoccuparci del prezzo da pagare per la collettività.
Book details
Publisher

Language

Publication date

Page count

Theme

Collection
About the author
Robert B. Reich
È professore ordinario di Politiche pubbliche presso la Goldman School of Public Policy dell'Università della California, Berkeley. Ha prestato servizio in tre amministrazioni statunitensi e ha scritto quindici libri tradotti in più di venti lingue. Tra i suoi libri pubblicati in italiano: L'infelicità del successo (Fazi Editore, 2001), Perché i liberal vinceranno ancora (Fazi Editore, 2004), Supercapitalismo (Fazi Editore, 2008), Aftershock (Fazi Editore, 2012) e Come salvare il capitalismo (Fazi Editore, 2015). I suoi articoli sono apparsi su «The New Yorker», «The New York Times», «The Washington Post», «The Wall Street Journal» e «The Guardian». È co-autore del pluripremiato film Inequality for All e del documentario Netflix Saving Capitalism. Il suo blog è robertreich.org.