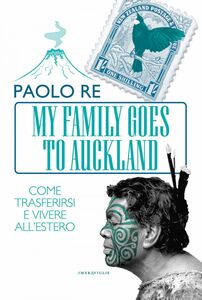 • Un vademecum che è anche una dichiarazione d'amore per un luogo agli antipodi, completamente diverso dal nostro.
• Auckland, nello specifico, e la Nuova Zelanda in generale. Ecco la guida per trasferirsi dall'altra parte del mondo. Il punto di vista, però, è quello di un'intera famiglia, che vive lì da anni ed è la protagonista assoluta di quest'avventura down under. Arricchito da una raccolta di itinerari per conoscere l'intero arcipelago neozelandese, il testo ci parla come fosse un libro di storie e di avventure. Da vero insider, l'autore, innamorato del luogo e che si trova lì per una scelta precisa, racconta la propria esperienza delineando al tempo stesso le caratteristiche di un paese ricco di possibilità, a più di 18.000 km dall'Italia.
E poi… notizie su fish'n'chips, maori, tatuaggi, ma anche suggerimenti su come comportarsi se erutta un vulcano, come parlare correntemente il kiwi-English, mangiare, dormire, prendere la patente (per poi ricordarsi di guidare dalla parte giusta) e far arrivare a destinazione i vostri animali, evitando di farveli mangiare a Singapore, se decidete di portarli con voi.
Book details
Publisher

Language

Publication date

Page count

Theme

Collection
About the author
Paolo Re
Paolo Re è musicista, con sette album all'attivo e centinaia di jingles pubblicitari. Ha collaborato con artisti e creativi a tutte le latitudini. È autore delle rubriche Across the Universe e MyFamilyGoesToAuckland per "VanityFair/ Traveller" e di Eat Play & Laugh per il blog delle Meraviglie. Una notte ha deciso che doveva trasferirsi in Nuova Zelanda. L'ha fatto, con tutta la famiglia (cane e gatto compresi), e ora vive a Auckland, dove talvolta scrive musica, talvolta storie, scatta fotografie con tutto quello che ha a portata di mano e non può fare a meno della pizza, mai.