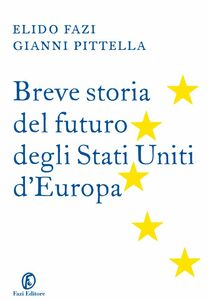 Il 2012 sarà ricordato come un anno di svolta per il futuro dell'Europa. Quasi di malavoglia e passo dopo passo, dopo aver insistito per anni a percorrere vie pericolose e forse impraticabili, mercanteggiando su tutto, la Germania di Angela Merkel sembra ormai aver sposato l'idea che per salvare l'euro non ci sia altra strada che quella dell'Unione Politica con la costruzione degli Stati Uniti d'Europa. Dopo l'elezione del socialista Hollande in Francia, l'idea di un liberismo con i criteri di stabilità di bilancio fissati dal centro sembra essere fallita. L'Europa Unita, se e quando si farà, non potrà essere soltanto un'unione fiscale e monetaria, ma un vero e proprio Stato federale in grado di assumere su di sé, almeno in parte, i debiti degli Stati nazionali, capace di emettere attraverso un proprio Tesoro federale gli Eurobond e di farsi promotrice di una seria riforma del sistema monetario internazionale, per evitare un'eccessiva e repentina rivalutazione dell'euro rispetto al dollaro e alle altre monete. Un'Europa che non si può arrendere al trionfo della finanza e che deve fare le proposte necessarie per assicurare una corretta circolazione del tra=co finanziario – indispensabile almeno quanto il controllo del tra=co aereo – nonché attuare politiche che creino occupazione. La politica neoliberista fatta finora, prima l'austerità e poi la crescita, è sbagliata. Bisogna tornare a Keynes che l'aveva capovolta: sono gli investimenti a creare risparmio, reddito e lavoro.
Book details
Publisher

Language

Publication date

Page count

Theme

Collection
About the author
Gianni Pittella
È il primo vicepresidente del Parlamento Europeo, e in questa veste è responsabile per i rapporti tra il Parlamento Europeo, il mondo arabo e l'America Latina. Esperto di questioni economico-monetarie, segue le Commissioni affari economici e cultura. È inoltre membro della direzione nazionale del Partito Democratico. Tra i suoi ultimi lavori si ricordano L'Europa indispensabile (2009), Domani a mezzogiorno (2010) e Dallo spread allo sprint (2012).
Elido Fazi
Elido Fazi si laurea in Economia e Commercio presso l'Università La Sapienzadi Roma e nel 1977 consegue un Master in Economia presso l'Università di Manchester. Nel 1979, dopo due anni presso la Ford of Europe di Londra, entra alla Business International Corporation, per la quale dall'86 dirige la sede italiana. Nel 1989 viene nominato Vice Presidente di Business International/The Economist Intelligence Unit, con responsabilità per i paesi mediterranei. Nel 1993 fonda Business International, società a capitale italiano che gestisce il marchio Business International di proprietà dell'Economist Group con un accordo di licensing. Nel 1994 fonda la casa editrice, Fazi Editore. Ha tradotto e pubblicato il poema in versi La caduta di Iperione (1995), e ha scritto due romanzi ispirati alla vita di John Keats, L'amore della luna (2005) e Bright Star (2010). Con Paolo C. Conti, ha pubblicato il pamphlet Euroil. La borsa iraniana del petrolio e il declino dell'impero americano (2007). Di grande successo fu la collana One Euro, in cui pubblicò La terza guerra mondiale? La verità sulle banche, Monti e l'Euro (2012) e La terza guerra mondiale? libro secondo - Chi comanda, Obama o Wall Street? (2012). Con Gianni Pittella (vice presidente del Parlamento Europeo) ha pubblicato Breve storia del futuro degli Stati Uniti d'Europa (2013).